China Home to Eight of Top 50 Blockchain VCs
Rohnert Park, CA, June 29, 2018 – Analysis by Crypto Fund Research of the top venture capital investors in blockchain companies reveals China's large role in shaping the future of the industry.
Led by Beijing, 16% of the top 50 most influential blockchain VCs are based in China. This includes two of the top 50 which are based in Hong Kong .
Node Capital and Ceyuan Ventures, both based in Beijing ranked in the top 10. Node Capital has made almost two dozen blockchain investments, mostly in ICOs. Ceyuan Ventures makes more typical venture investments in companies like Mars Finance, Basis, and Trip.io.
Overall, China had more VCs among the top 50 than any country other than the United States. Binance, which earlier this month announced a $1 billion investment fund for blockchain and crypto startups did not make the list this time, but will almost certainly be on the list in the near future.
"Despite a ban on cryptocurrency exchanges, China is extremely invested in developing a leading blockchain infrastructure" Josh Gnaizda, founder of Crypto Fund Research, said, "The Hangzhou Blockchain Industrial Park is just one example of this commitment."
Chinese Cities with Top 50 Blockchain Venture Capital firms
Beijing: 5
Hong Kong: 2
Shanghai: 1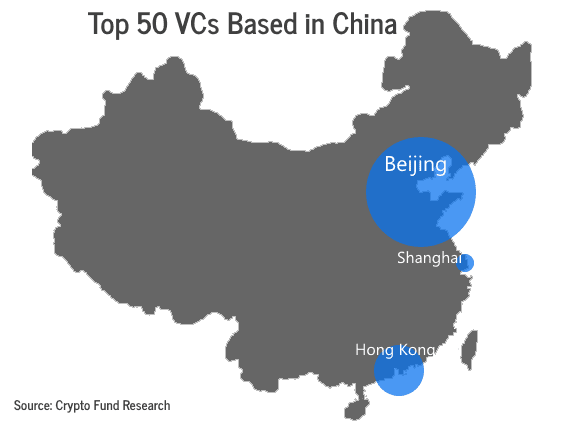 Five venture capital firms in Beijing made the list. These are Node Capital, Ceyuan Ventures, ZhenFund, FBG Capital, and PreAngel.
Two VCs from Hong Kong, Mandra Capital and Arbor Ventures also made the top 50.
More info on the top 50 blockchain VCs can be found here: https://cryptofundresearch.com/top-50-venture-capital-firms-investing-blockchain-companies/
About Crypto Fund Research
Crypto Fund Research provides proprietary research on the cryptocurrency investment industry and is part of The Blue Heron Group, providing alternative investment research and consulting since 2007.
Resources
Media Resources: https://cryptofundresearch.com/media/
Charts and Graphs: https://cryptofundresearch.com/charts-and-graphs-top-50-vc-investors-in-blockchain/
Contacts
Josh Gnaizda, [email protected]