Oxford Fintech Programme – A Surprisingly Valuable Online Learning Experience
I recently had the opportunity to participate in the Oxford Fintech Programme, a ten week online programme provided by Oxford University's Saïd Business School in collaboration with GetSmarter, leaders in digital education.
A number of top universities are now offering online learning programmes. There are also dozens of online educational resources for fintech, blockchain, and cryptocurrency. So I was extremely interested to see how this programme compared and, more importantly, to see if it was able to justify its GBP £2,500 price tag.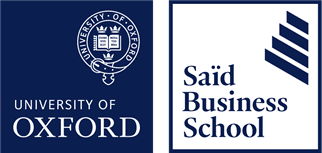 After completing the programme it became clear that while pricey, the Oxford Fintech Programme did much to justify this cost. For those that can afford it, the course provides a unique opportunity for acquiring in-depth knowledge of fintech (including blockchain) from some of the top professors and entrepreneurs in the field. It also offers something else – a collaborative experience that, to the extent the digital medium allows, most closely resembles that of actually taking an undergraduate level course at the University of Oxford. Even many of the networking opportunities present in a traditional university education, exist in the Oxford Fintech Programme. In fact, Oxford Saïd and GetSmarter go to great lengths to encourage networking and despite not having admissions requirements, the caliber of programme participants is surprisingly high.
What is the Oxford Fintech Programme?
The Oxford Fintech Programme is a ten week online programme that provides university-level curriculum on many elements of financial technology (fintech). It starts with an overview of the field and then provides an immersive experience in key areas including blockchain, artificial intelligence, regtech, and proptech. The information is in the form of dozens of short video interviews with Saïd Business School, University of Oxford professors and guest experts from a variety of financial services companies, including ClearBank, Mastercard, and Lloyds Banking Group.
The programme experience itself is hosted by GetSmarter. This platform is extremely well organised and not only hosts the learning material, but provides forums for communication with other participants including group work. We will discuss the group work in more detail, but suffice it to say this is an extremely valuable part of the course, the importance of which is easy to underestimate at first. As an aside, GetSmarter hosts a number of similar courses on varying topics from top universities like the University of Cambridge, the London School of Economics and Political Science, Harvard, and MIT.
The programme is broken up into an orientation week and ten weekly modules:
Programme Module 1: Introduction to Fintech
Programme Module 2: Structure and disruption in financial services
Programme Module 3: Tools for disruptors
Programme Module 4: The future of money
Programme Module 5: The future of markets
Programme Module 6: The future of transactions and marketplaces
Programme Module 7: Infrastructure and Regtech
Programme Module 8: PropTech and real estate innovation
Programme Module 9: Frontiers of financial innovation
Programme Module 10: Further frontiers of financial technology and next steps
Like with traditional university coursework, the course starts by creating foundational knowledge and then gets into greater depth with each subsequent knowledge. Likewise, there are practice assignments, graded assignments, and weekly deliverables. While the certificate of attendance issued upon successful completion is valuable in itself, don't expect to be able to breeze through the programme without putting in real effort. The grading is fair, but rigorous.
Based on the high quality of professors and guest experts, I expected the course material to be exceptional. And it was. But one of the most valuable aspects of this course, was the one about which I was most skeptical – the group project.
Unlike the University of Oxford, which accepts less than 20% of applicants, there are no admissions requirements for this course. I therefore expected many of my classmates to be underqualified, disinterested, or otherwise unexceptional. To my surprise, this was not at all the case. Most had achieved significant success in their careers and saw the programme as an opportunity for a level of learning not available to them through their jobs. Others were serial entrepreneurs seeking to enhance their knowledge of the fintech while networking with likeminded individuals.
A typical week (module):
The programme is divided into ten weekly modules. Most weeks involve both individual coursework and groupwork. To shed some light on the overall course, it's useful to use a typical week as an example.
Let's examine week three, Tools for Disruptors, because it is the beginning of the group work.
Each module runs from Wednesday to Tuesday.
I began week three by logging into the portal and entering the discussion forum. In the forum I found in depth discussions of what makes a successful pitch deck. This was not a typical internet discussion forum.
Responses were insightful, considerate, and (this may come as a shock to anyone who's spent much time on the internet) well-written and grammatically accurate. Despite the lack of admission requirements, this forum could just as easily have been a private discussion forum at a top university. The only exception being that here many of the participants had real world business experience.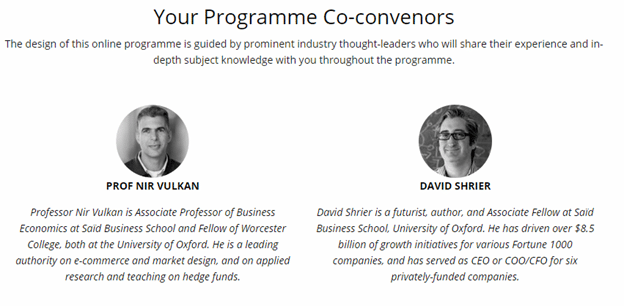 After reading the forum and posting a comment of my own based on my experience founding two companies, I moved on to the individual coursework. The coursework consisted of a fair bit of written material and graphics covering the fintech ecosystem. It also included over a dozen short interviews with professors from Oxford Saïd and UC Berkeley's Haas School of Business, as well as high-level employees from Barclay's, Lloyds Banking Group, and UBS in addition to the faculty Co-convenors and Instructors.
The speakers covered topics of great importance to fintech entrepreneurs – the difference between innovation and disruption, how to create a culture of innovation in a startup, and how to ensure that innovation actually drives growth in a company. In addition, a couple of hours are devoted to developing a compelling narrative for a product or company.  In fact, nearly every week offers the opportunity for not only a high level fintech learning experience, but for developing entrepreneurial skills.
The quality of guest speakers is truly unique. While leading universities might occasionally have a prominent Guest Lecturer, the Oxford Saïd course has several every week.
The individual work took about five hours. It could probably be completed more quickly in a pinch, but I found it compelling enough to watch several of the videos a second time.
By the time I had finished the individual work, it was almost time for our first group phone call to discuss our innovation roadmap. The group work is a critical element of the course and you will have the option to either choose a group, or be assigned to a group by Programme Instructors. Most groups consist of five or six people, often scattered throughout the world, working on either a business plan or an innovation roadmap. The de facto leader of our group had worked closely with a major non-profit and identified that their supply chain could be vastly improved by adopting blockchain, biometric tracking, and other fintech.
Our roadmap would present these options and hopefully lead to their eventual adoption. While our group focused on recommendations for a non-profit, many groups chose to pursue business plans for new fintech startups, some of which will likely lead to viable companies. Though group work can be done entirely online, we decided to have an introductory phone call. I was pleasantly surprised by the other members of my group. One worked at a senior level for the Canadian government, one was a high-profile impact investor, another managed a major Swiss financial services firm.
The group work forms a core part of the experience. For anyone hoping to start their own business, the ability to collaborate with individuals around the globe is essential. I was pleasantly surprised not only by the caliber of talent on our team, but by their enthusiasm. If I were looking to start a fintech or blockchain business, I would consider the group work to be a viable means for finding like-minded individuals that could potentially form the core of a strong team. By the end of the programme, many groups had prepared business plans and pitch decks that were bordering on being ready to present to venture capital investors.
Don't let the lack of admissions standards fool you. The quality of your peers in the Oxford Fintech Programme is likely unparalleled by any comparable course.
The programme suggests that each week will require 10-15 hours per week. One could likely invest less than this recommended time and still manage to pass, but the information and group work is so phenomenal I would strongly advise figuring out how to carve out the suggested time before enrolling.
Who should take this programme?
My background is in finance and blockchain, so I viewed the Oxford Fintech Programme as an opportunity to develop new, but related skills. I was not disappointed. However, even someone much more focused on blockchain than finance, would almost certainly gain tremendously from this course.
However, where this course really excels is in the networking opportunity it provides. This is something you're unlikely to find in other online programmes.
Anyone considering starting a business related to blockchain, artificial intelligence, or financial technology in general, should view this as a unique opportunity to collaborate with potential future partners and employees from around the world. Your two hundred or so classmates have similar interests, and many have truly impressive backgrounds. There are few other mediums I'm aware of that offer this level of potential for cultivating those type of relationships.
Is it worth the cost?
The programme is not cheap. At GBP £2,500 (about USD $3,200), not everyone will be able to afford it. But let's put the price in perspective. The annual tuition at Said Business School, University of Oxford is nearly GBP £40,000. For a fraction of the cost you are getting a very similar experience to a full semester course while not having to leave your current job, or even travel for that matter.
I would strongly consider this programme if you:
Work for a startup or established financial services firm that recognizes the importance of fintech and innovation and is willing to help cover the cost of tuition in order to maximise your potential value to the firm
Are an entrepreneur looking to not only develop a deep understanding of fintech, but seeking networking opportunities not present in most, if any, comparable courses.
While the certificate of attendance may have legitimate value itself, it's the learning and group collaboration that makes this programme truly worth the price of admission.
Conclusion
It is not cheap by any measure. There are other options at a fraction of the price. However, I've yet to see any competing course that comes close to providing the immersive experience of this one that so closely resembles the digital version of actually enrolling at a top business school. Oxford Saïd and GetSmarter have obviously invested heavily in making this programme the premier fintech programme available anywhere. And that comes with a cost. But if you are serious about taking your knowledge, and professional network, to the next level, I highly recommend you consider the Oxford Fintech Programme.
You can view more details on the program here: https://www.getsmarter.com/courses/uk/said-business-school-oxford-university-fintech-online-short-course
Josh Gnaizda, CEO
In a couple months we will be reviewing the MIT Blockchain Technologies Programme, also offered through GetSmarter, and will post a link here when it's available.
Disclaimer: I was provided free access to the Oxford Fintech Programme with the understanding I would write an unbiased review upon its completion. However, I have not received, and will not ever receive, compensation in exchange for this review. That they provided me this course with the understanding that I would have full editorial control over any review, good or bad, speaks to their confidence in the quality of the program they provide.