Silicon Valley Dominates List of Top Blockchain VCs
Rohnert Park, CA, June 29, 2018 – Analysis by Crypto Fund Research of the top venture capital investors in blockchain companies reveals Silicon Valley's immense role in shaping the future of the industry.
Led by Palo Alto and Menlo Park, 26% of the top 50 most influential blockchain VCs are based in Silicon Valley. The Bay Area as a whole accounted for 20 of the top 50.
With the recent announcement of Menlo Park-based Andreessen Horowitz's $300 million crypto-focused venture fund, Silicon Valley's importance appears likely to grow. Andreessen Horowitz ranked fourth on the list of top 50 blockchain VCs prior to the announcement and looks to challenge Pantera Capital, also based in Menlo Park, which ranked second.
Blockchain Capital, one of six funds from San Francisco making the list, placed third.
"Given the Bay Area's prominent role in both venture capital and technology, it's not a total shock that the area had more top blockchain VCs than any other region," Josh Gnaizda, founder of Crypto Fund Research, said, "However, that the Bay Area is home to fully 40% of the top 50 of these investors is a bit surprising."
Some of the funds, such as Pantera Capital and 8 Decimal Capital, are blockchain-specific funds. Others, like Andreessen Horowitz and Sequoia Capital are large venture capital firms that have only invested a fraction of their assets in blockchain startups.
Bay Area Cities with Top 50 Blockchain Venture Capital firms
San Francisco: 6
Menlo Park: 5
Palo Alto: 5
San Mateo: 2
Mountain View: 1
Tiburon: 1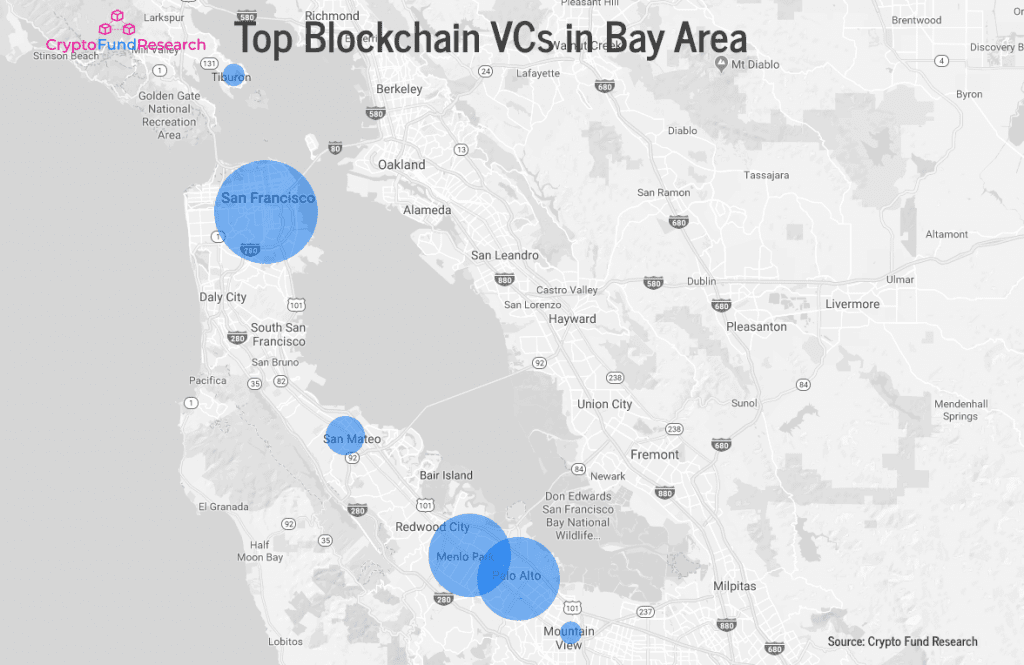 More info on the top 50 blockchain VCs can be found here: https://cryptofundresearch.com/top-50-venture-capital-firms-investing-blockchain-companies/
About Crypto Fund Research
Crypto Fund Research provides proprietary research on the cryptocurrency investment industry and is part of The Blue Heron Group, providing alternative investment research and consulting since 2007.
Resources
Media Resources: https://cryptofundresearch.com/media/
Charts and Graphs: https://cryptofundresearch.com/charts-and-graphs-top-50-vc-investors-in-blockchain/
Contacts
Josh Gnaizda, [email protected]