Investors Pull Assets From Crypto Funds Even as Funds Outperform
FOR IMMEDIATE RELEASE
Contacts:
Crypto Fund Research
Joshua Gnaizda, CEO
San Francisco, CA
Investors Pull Assets From Crypto Hedge Funds Even as Funds Outperform
Fund flow data from Crypto Fund Research reveals that investors withdrew more than $160 million in assets from crypto hedge funds in the third quarter, despite funds outperforming Bitcoin by almost 6%.
SAN FRANCISCO, (October 17, 2023) – Investors pulled $14 million from crypto hedge funds in September, bringing the total net flows from crypto hedge funds in Q3 to $64.4 million USD. Investor net flows are the sum of investor subscriptions and withdrawals. The data comes from the CFR Performance Database which tracks the monthly returns and assets of more than 270 crypto hedge funds. Crypto hedge funds have returned 17.7% YTD through September.
Investor redemptions have typically come in periods in which crypto hedge funds performed poorly or drastically underperformed Bitcoin and other cryptocurrencies. Crypto fund performance, as defined by the CFR Crypto Fund Index, was -5.48% for Q3, while Bitcoin was down -11.28% in the period. Yet while crypto hedge funds outperformed Bitcoin by more than 6% in the third quarter, investors quietly pulled over $160 million in assets from these funds. 
Year to date, net investor outflows total $676 million. Meanwhile, crypto funds have returned 17.7% in 2023. While admirable, this falls far short of Bitcoin's 63% YTD return.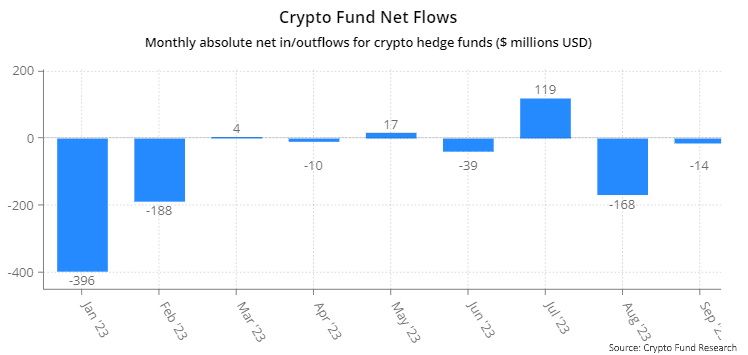 "Though crypto funds performed well on a relative basis, fund outflows in the third quarter suggest investors still remain somewhat skittish,"  said Josh Gnaizda, CEO of Crypto Fund Research. He added, "While crypto funds outperformed Bitcoin in Q3, they significantly underperformed in the first half of the year leading some investors to reevaluate their positions."
Total assets managed by crypto funds at the end of Q3 were $56.4 billion – up from $48.3 billion in AUM to start the year. However, total assets still remain well below the 2021 Q4 peak of $69.7 billion.
More on crypto hedge fund flows can be found here.
About Crypto Fund Research
Based in San Francisco, CA and launched in 2017, Crypto Fund Research (CFR) maintains the world's largest database of crypto funds and has become the crypto industry's "go to" provider of crypto hedge fund information. CFR provides the CFR Crypto Fund Index which tracks the monthly performance of more than 170 crypto hedge funds. It also provides the CFR Performance Database, the largest online database of crypto fund strategies and performance.